Post by smallspeed on Jul 25, 2017 7:33:56 GMT
On to the bottom-end..
The block was cleaned using the same "ice-blasting" technique, as was the sump, oil pump parts, etc.
The crank (now fully balanced) was dropped into the block and torqued down using a set of cheap standard main bearings, and the old cap-bolts, and the joints measured using plastigauge strips.
Most of the bearings were showing in-tolerance clearance, however a couple were towards the top end, and so a "custom set" of main bearings were ordered from BMW - they offer various colours of bearings relating to how far oversize they are - red, yellow, green, blue, etc. They offer these individually, and in standard, first ground and second ground fitments too, so it's pretty easy to get them right!
Bearings in, crank was assembled and re-checked with another set of plastigauges - clearances all now at the bottom end or thereabouts

Plastigagues removed, everything cleaned and suitably lubricated with an assembly lubricant, torqued down with new bolts, pistons and con-rods fitted, again with "correct colour bearings"
At this point I set the crank to piston 1 TDC and found the best way to do this was with a dual dial test gauge - I'm not sure what the correct term is for this thing, but it's used for levelling the bed of a milling machine and looks like this..
..I was able to stick it on pistons 3/4 which are level at piston 1 TDC, and then lock it out
I thought this was a really neat piece of kit, but the guy I borrowed it off remembered I had borrowed it so I had to give it back
I've since brought one of these..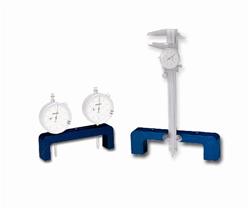 ..which is about 1/10th the price of the first thing, and works really well for setting piston 1 (although not on aluminium blocks!)
All set and ready to go, crank locked out against the block..
Lower timing case on..
Cams set to TDC and locked out, head, oil pump, (metal*) water pump, and upper timing case on..
* A lot of BMW engines run a plastic impellor on their water pumps and they're a bit of a ticking time-bomb. I think they're OK if they're replaced every 50k or so, but they're a risk either way, so if you're replacing one get either the later version which has a metal impellor, or an aftermarket one with a metal impellor - there are a couple of versions, one with a welded steel arrangement and the other with a cast aluminium one. I prefer the latter, it looks WAY more robust to me and mimics the plastic impellor design
Now we take a bit of a leap!.. Head on, all timed up, vanos unit fitted, cam cover fitted, COP's in, everything snugged down and wired up!
Exhaust manifold "art"..
These are from the "Euro" e36 m3 evo (S50B32) and are about as good as it gets really - there are a lot of third party performance exhaust manifolds (or headers if you're American) however none of them really perform better than the factory manifolds.. The S50B32 was a proper 100bhp/litre engine (first naturally aspirated standard production engine to achieve it I believe) so they weren't messing about :lol:
I know of some big power race engines using these manifolds, so they're not going to be a restriction for my little 2.9

And, wrapped..
I asked a lot of questions about wrapping vs. paint and wrapping vs. coating, etc., and ended up deciding coating was not going to fly on my budget, or on second hand manifolds without a lot of cleaning inside and out! I got a top tip from Mr Race-Mechanic next door though - use the titanium wrap! Apparently the standard black / white / cream stuff is nasty to fit, and a lot of people recommend doing things like soaking it in water before fitting, painting over it, painting under it, etc. All seem to either make the wrap degrade, the wrap catch-fire, or the manifolds rot over time..
Titanium wrap - fit it, move on!
He then proceded to produce 30 meters of the stuff from a box in the garage and give it to me, saving me about £100.. He then stood and watched me wrap the damn things - offered no help, just lots of laughing, tutting, and head-shaking! I think he had his 100 quids worth that morning!! All locked in place with double-loops of double-lock-wire rather than straps (another tip) because it holds everything tight, but add a bit more flexibility vs. the very solid stainless straps
Couple more bits and bobs, some wiring, and its ready for fitting!
ENGINE DONE! And pictured on the drive with its 120bhp/litre n/a little sister (s54b32tu)